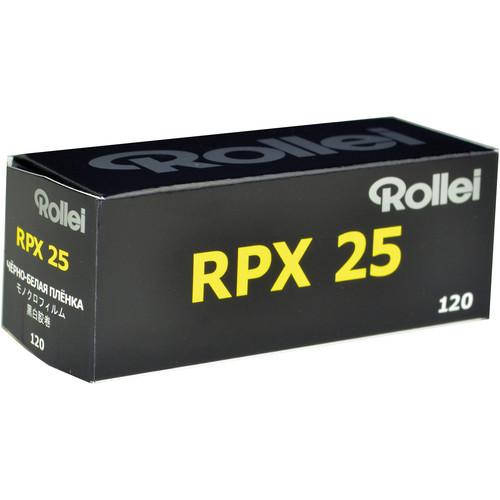 Rollei/Agfa RPX 25 120 Panchromatic Black and White Negative film
$10.00
Rollei RPX 25 is a low-speed panchromatic black and white film with a nominal sensitivity of ISO 25/15°. It has extraordinarily fine grain, and has great resolving power and high acutance.
Rollei RPX 25 is characterized by a high sensitivity reserve of one f-stop, depending upon development. The thin, silver-rich emulsion is coated onto a crystal-clear base and offers an excellent balance between image quality (sharpness/fine grain) and speed.
Low-speed panchromatic film, ISO 25/15° 
Resolving power contrast 1000:1 = 260 lines/mm 
Extended exposure latitude (between 12 and 50 ISO) 
Good for push/pull processing 
Good tone reproduction 
Great maximum density 
Transparent = ideal for scanning and as a slide 
Anti-curling layer ensures optimum flatness
This is for one roll of 120 film. 
FREE SHIPPING to Canada and USA on most orders over $200. This item ships from our location in Perth, Ontario Canada. Local  pickup in Perth can be arranged and is always free. We have many items that are not listed online. Please inquire.

Related products